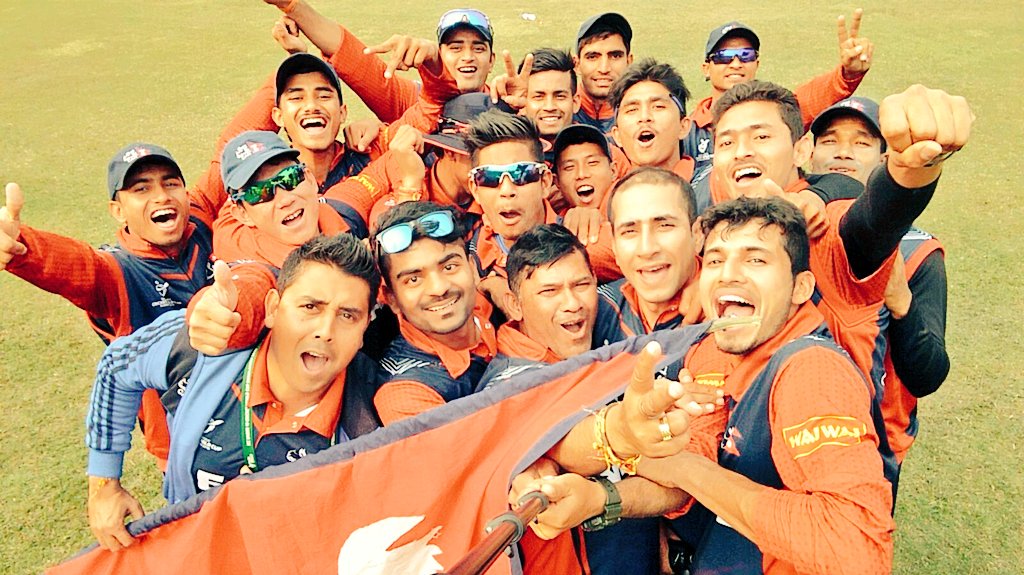 Photo Source: ICC Cricket
Nepal progresses towards ICC U-19 Quarter Final rounds with this victory over Ireland.
The disciplined Himalayan Nepalese troops continued its winning steak. Nepalese are above the cloud with this win as they enter the quarterfinal. Nepal thrashed Ireland with a big margin , won by 8 wickets with 147 balls remaining. The winning luck is spinning towards Nepal's forehead.
After winning the toss, Ireland opted to bat in a batting friendly pitch . Irish had a steady start.
Lamichhane's Hat-trick
on 32nd over scattered Irish batsmen. Lamichhane's maiden 5 wicket haul restricted Ireland to 131 in 50 overs. Nepalese bowling attack dismantled Irish batters.
Click on the Pic for clear view
Nepal started bitterly, the
golden duck out of Sunar
in the very first ball of the innings was the only cherish moment for Irish supporter.
Karki's
classical innings of 61 not out sealed successive victory in a row for Nepal. It took just 25.3 overs for Nepal to chase the target of 132 runs loosing 2 wickets.
Click on the Pic for clear view
Click on the Pic for clear view
Nepal will face India this Monday , February 1st. This match will decide the group topper . India currently is leading the group with 2 wins.
Nepal and India both secure their place in the quarter final of ICC Under 19 , 2016 World Cup.
Click here to view scorecard in Crichq.
Nepalese cricket is raising its standard despite several difficulties back home- The following sport anthem boost up our confidence--
Rato ra chhandra surya jungi nishan hamro
Jiundo ragat sari yo baldo yo shaan hamro
रातो र चन्द्र सुर्य जंगी निसान हाम्रो
जिउदो रगत सरि यो बल्दो यो सान हाम्रो !!